People think the ranch is all about riding. We do offer a lot of riding, but there is so much more for riders and non-riders alike.
Camping—Following the Thursday cookout at our U. S. Forest Service permitted camp, we'll offer an overnight for those who wish to spend the night "under the stars."  You may bring your own sleeping bag for this activity or use one of ours.  Tents are provided and foam mats are available.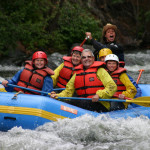 Rafting— If horses weren't enough, put your adventurous spirit to the test with our rafting excursions. Partnering with Scenic River Tours, a whitewater raft trip on the Taylor River is offered on Tuesday for those ready to race the rapids or for those who want something a little more leisurely, there's a float trip on the Gunnison River.
Vehicle trips— Vehicle trips on area forest roads are planned for non-riders and for those who want a change of pace.  Vehicles are also available to take you to the three cookout sites, if you choose not to go by horseback.  Other vehicle trips include a morning of shopping in Gunnison or a visit to the Gunnison Pioneer Museum; a trip to Crested Butte is scheduled on Friday.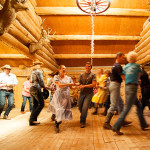 Ranch Fun— The evening hayride and marshmallow roast is always a good time. One night each week we'll feature a Western music show starring our own "Waunita Wranglers". An evening of square dancing is also scheduled, complete with instruction for all.
Shopping/Site Seeing— You may choose a morning of shopping in Gunnison or a visit to the Gunnison Pioneer Museum. We also offer scenic excursions up to "Vera's Mine" and other notable areas around Waunita and the Gunnison area.
Massage— During the week, we are also able to schedule time for a visit from our local massage therapist for those guests who might need to have those kinks worked out after a long day of riding or for whatever else that might ail them. The massage therapist charges a little less than the going rate for her services.
Recreation and relaxation— The many other activities available at the ranch include hiking, rockhunting, softball, movies, slide show, ping-pong, pool, horseshoes and swimming. A full week's activities are planned for you. . . or you may just choose to relax.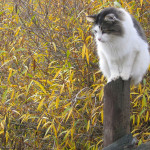 Ranch Animals—Ranch animals, besides our string of fine horses, include lambs, goats, pigs, ducks, chickens, dogs and cats, many of which enjoy the occasional petting, scratching or feeding. Younger folks may help with feeding small animals.
Falls, Winters, and Special Events— September is a special time in the mountains. The brilliant display of fall colors is a once-a-year show. From December thru mid-April ranch facilities are also available for downhill ski groups, snowmobile clubs, church retreats, or small group meetings. The ranch is also available for use for other special events as well.