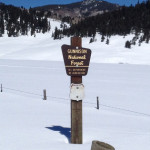 Here are our listed rates for our Winter season. If you have any questions, please don't hesitate to contact us.
Group Rates:
Rates are based on double occupancy, per person, per day with a minimum group size of 11. (For an adult private room, there is a $20/day surcharge).
| No. in Group | Rate for Room, B'fast & Dinner |
| --- | --- |
| 11 – 20 | $110 / person |
| 21 – 30 | $105 / person |
| 31 – 40 | $100 / person |
| 41 or more | $95 / person |
During the winter we normally serve breakfast and dinner only. Ski groups are expected to buy lunches at the ski area or bring supplies for lunches.
Groups spending the day at the ranch will be served a brunch meal about 10 a.m. and the evening meal about 5 p.m. or they may bring lunch supplies. Guests may bring snacks and we will be glad to store perishable food.
Children 8-13 years are charged 75% of the adult rate; children 3-7 years are charged 50% of the adult rate; and there is no charge for children under 3 years of age. Sales tax of 6.5% will be added. One day's rate is required as a deposit.
Cancellation policy: Groups – deposit returned with 4-week notice. All rooms are non-smoking.
Please contact us for availability. You can also print and fill out a reservation form and mail it in with your deposit.