Start with a great location, mix in comfortable rooms and fantastic facilities for relaxation and recreation, and then have it served up at a family-owned and operated ranch with over 50 years of experience, and well, you've found "the best week of your year."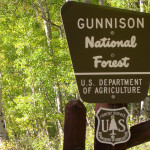 Waunita Hot Springs Ranch, located high in the Colorado Rockies at an elevation of 8,946 ft., is 10 miles west of the Continental Divide. The ranch is surrounded by Gunnison National Forest land and summer pasture. U.S. Forest permits and private leases enable us to ride on, pasture and otherwise enjoy use of hundreds of thousands of acres in eastern Gunnison County.
Our remote location means guests aren't disturbed by passing traffic (maybe a yelping coyote now and then). Usually the only creatures you encounter while on forest trails are occasional deer and elk. And the stars are always bright in Waunita Country! The lodges are located at the edge of the forest overlooking Tomichi Dome and a high "mountain park." Cattle can be seen grazing in the Waunita Valley.
Although we are only ten miles from the Continental Divide and scenic mountains surround our valley, the ranch grounds are comparatively level. This means the front yard is suitable for an evening softball game and the walk to and from the corral is an easy one. If you jog, you'll find the county road in front of the ranch quite suitable for early morning workouts.
FACILITIES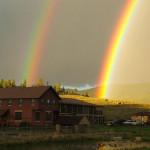 Our main lodge, is where most of the activity happens—the dining room for meals and snacks, the lobby for gathering for activities, and the living room for a game of pool or relaxing and enjoying conversation or a good book.
Our main lodge also provides lodging for most of our guests, each room with a private bath and comfortable beds. We also offer lodging in our Hillside Lodge, which is great for family groups. These provide units with four rooms each, and complete privacy.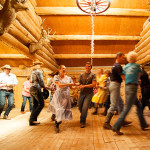 A short walk from the main house is the barn. The upstairs of the barn gives groups needed meeting area and the room to spread out—as well as a little bit of privacy. It also serves as a dance/music hall for groups and visitors evening activities.
And then there's the pool. Fed by the natural hot springs, the 35×90 ft pool is one of the largest private pools in Colorado. With an adjacent bath house and hot tub, there's plenty of room for swimming, splashing and relaxing.
There are other facilities to make your stay a comfortable one. We have a small gift shop should you need lip balm, gloves, a cowboy hat or clothing. In case you need to do laundry, there's a laundry room behind the lodge with washers and dryers.
HISTORY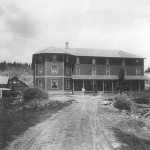 Originally home to the Ute Indians, Waunita Hot Springs was homesteaded in the late 1880's. At the turn of the century, Waunita Hot Springs had become famous for the hot springs. For a while it was owned and operated by Dr. Charles Davis from Chicago who brought his patients out to spend the summers and bathe in the healing waters.
However, during the depression of the 1930s, Waunita Hot Springs changed hands a number of times due to owners falling on hard times. During the 1950's Waunita was host to the Monarch Baseball Camp.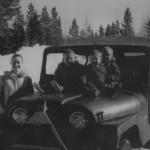 The Pringle family purchased the property in 1962, driving out from Texas in a 1961 Jeep and a station wagon, eventually turning it into a family destination—a guest ranch for more than 50 years.
In 2016, the Pringles decided to switch from a summer-only, week-long guest ranch experience to a full-service, year-round vacation and special event destination. Their vision is to create a place for folks to enjoy time off with friends, family and fun. From weekends to full weeks, from resting and relaxing to Spring Breaks to and special events, Waunita is the perfect place to get away to.