NOTE: Currently, the hot springs pool is not open for public day use. The pool is available to private groups/guests with reservations and staying at the ranch.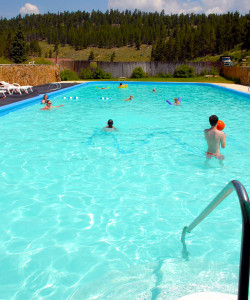 We offer a 35 ft wide by 90 ft long pool — one of the largest private swimming pools in all of Colorado — and it's completely fed by the natural hot springs. This means no matter the outside temperature, we're able to keep it a nice and soothing 95 degrees and an adjacent hot tub is maintained and 100 degrees. After a day of riding, hiking or whatever your activity, you'll find the hot springs a popular place.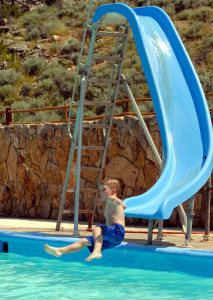 As part of the pool area, we also provide men's and women's changing areas with showers for your added convenience. While access to the pool is provided with summer, winter, and bed & breakfast offerings, the pool is available for day use.
The facilities at Waunita are primarily reserved for private groups and events with B&B's in between. Day use is not available during these private events. Always call us at (970) 641-1266 or email us for day use availability.