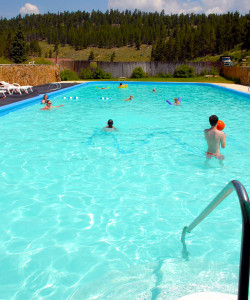 We offer a 35 ft wide by 90 ft long pool — one of the largest private swimming pools in all of Colorado — and it's completely fed by the natural hot springs. This means that depending on the time of the year, the pool stays  a nice and soothing 95-102 degrees and an adjacent hot tub is kept at 100-104 degrees. After a day of riding, hiking or whatever your activity, you'll find the hot springs pool a popular place.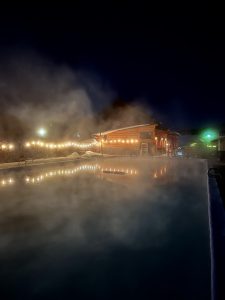 As part of the pool area, we also provide men's and women's changing areas with showers for your added convenience. While access to the pool is provided with summer and winter offerings, the pool is available for day use only on a limited basis.
For those who want to use the pool, we ask you to abide by the following code of conduct.
In keeping with our family atmosphere, all guests are welcome here unless their behavior interferes with another guest's visit.

No drugs, no alcohol, no smoking, no vaping.

Suits are required.
The facilities at Waunita are primarily reserved for private groups and events. Day use is not available during these private events.  Always call us at (970) 641-1266 or email us for day use availability.