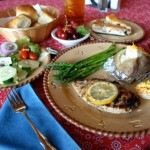 We only know how to cook one way—good. Our emphasis in the kitchen is on homemade, wholesome, fresh, plentiful and tasty. Where else can you get such food as "made from scratch" muffins, biscuits, rolls, cakes, pies, pancakes and cheesecake. There's also lots of salads, veggies, poultry, fish, pork and beef. With notice ahead of time, we can also help with special dietary provisions.
We serve our meals family style where everybody eats together. It's a great way to talk about the day of riding, rafting, and swimming and a great place to meet other guests from around the US and the world.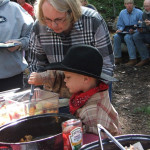 At any time of day, our dining room area is open where you can help yourself to the fruit bowl, hot chocolate, tea, coffee and cookies. We also have a "guest fridge" where you can store a soda or two, or we store those extra desserts we need help finishing off.
Alcohol: In keeping with our family atmosphere BYOB is permitted in your room in moderation. We also have an "adult only" area available for pre dinner drinks. Beer and wine only please. No alcohol is allowed in the public areas or the hot springs.