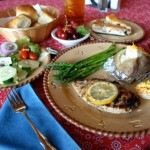 The Pringle family has owned and operated Waunita Hot Springs Ranch since 1962.  The ranch operated as a full service "dude/guest ranch between 1965 and 2016.  For a number of reasons, this operation changed after the summer of 2016 to a property catering to mostly groups of 25 or more.   Groups have included family reunions, weddings, business retreats, church retreats, yoga retreats, meditation retreats, car clubs, riding clubs, biking groups, ski retreats, snowmobile clubs and just about anything you can think of.
While many of these groups opt to use our commercial kitchen to prepare their own meals, some groups prefer Waunita staff to prepare their meals. For those groups wishing menu/meal preparation, please contact us.
At any time of day, our dining room area is open where you can help yourself to the fruit bowl, hot chocolate, tea, coffee and cookies. We also have a "guest fridge" where you can store a soda or two, or we store those extra desserts we need help finishing off.
Alcohol: In keeping with our family atmosphere BYOB is permitted in your room in moderation.  We also have an "adult only" area available for pre dinner drinks.  Beer and wine only please.  No alcohol is allowed in the public areas or the hot springs.