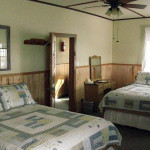 At Waunita Hot Springs Ranch, we provide our guests with comfortable and cozy accommodations in two locations—our main ranch house and our Hillside Lodge.
The Ranch House—Guest accommodations are located on the 2nd floor of the historical ranch house. There you'll wake up to the smell of bacon cooking and coffee brewing. You may even choose to sneak downstairs in your robe to get that first cup! Located on the main floor you'll find the dining hall, library and billiard room, two fire places and lots of space to sit and relax.  The new deck is a great place to enjoy dinner or an evening cup of hot chocolate.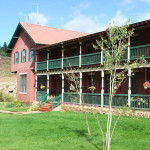 Ranch House rooms offer private baths and either queen, doubles or bunk beds (for kids). Most baths include tub/shower combinations, and each room provides space to unpack and store your clothes and gear for the week.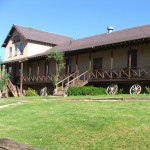 The Hillside Lodge—With its two sections of four rooms or two family units each, the Hillside Lodge is ideal for small family groups. And yet there's complete privacy. Every room comes with a private bath with most baths being tub/shower combinations.
Please contact us if you have any preferences or have any questions about our accommodations.